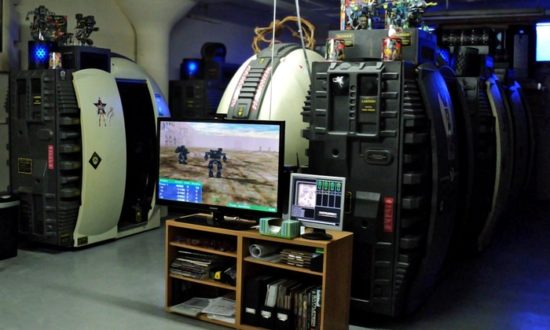 Here's a unique experience for any gamers in your life – check out Fallout Shelter Arcade in Minneapolis and enjoy some virtual gaming! Right now you can save on your gameplay with this Groupon offer: pay $16 for four missions (reg. $30) or $30 for eight missions (reg. $56).
Each mission is 10 minutes long, and you'll play in the Podbay which features 12 sleek, retro-yet-futuristic Virtual World Tesla II cockpit simulators. Fallout Shelter Arcade is located at 451 Taft St NE, Suite L4 in Minneapolis. Hours are Thursday 5 – 9 pm, Friday 5 – 10 pm, and Saturday 1 – 7 pm.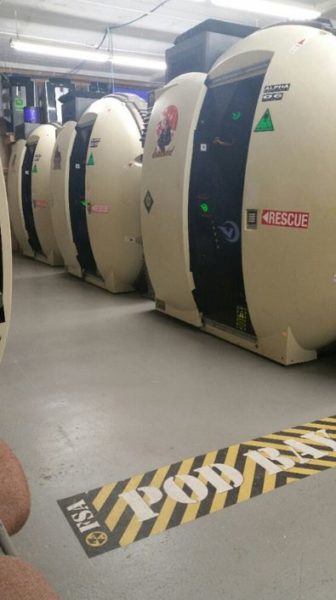 With no exaggeration and without a sliver of hyperbole, it's a stone-cold fact that there are no other arcades like Fallout Shelter Arcade. It's a rare place where gamers can be completely immersed in virtual realities without typical gaming distractions such as noisy roommates, infringing house cats, or dayjobs, or even light itself. That's all due to Fallout Shelter Arcade's distinct attraction: The Podbay. Like something out of a gamer or an Air Force sergeant's dreams, The Podbay features 12 sleek, retro-yet-futuristic Virtual World Tesla II cockpit simulators (the only cockpit simulators of this kind in all of Minnesota). They look like pods you'd learn how to fly a Harrier with, escape from an alien spacecraft in, or survive an alien attack in…but they're being used for a much greater purpose: making the video game experience as awesome as it can possibly be.

Games hosted by the Pods include Battletech, in which players become one with a thirty-foot tall, 75-ton walking tank and blast the kablooey out of other podding gamers. The other pod-perfect game is Red Planet, where you control a Vectored Thrust Vehicle (VTV) across the terrain of a Martian mining canal, racing other VTV's through narrow corridors, and occasionally playing games of Space Chicken with oncoming aircraft. The expert staff, known as Mercs, are always on hand to help out rookie pilots and find new challenges for hardened virtual air-jockyes, and Fallout Shelter's pay-per-play gaming hours help first timers quickly earn their virtual pilot's licenses.
Get your Groupon HERE!