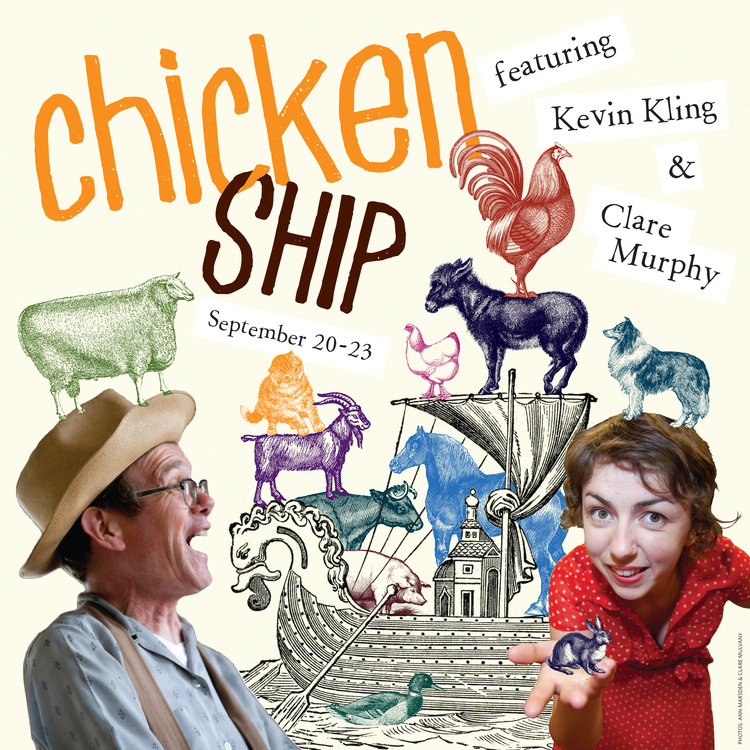 We love to attend local theatre shows.  One of the best parts about living in MN is that there is an abundance of great options. 
If you want to save up for a bucket list show you can do that but there are some great hidden gem theaters offering amazing live talent as well. 
One of our favorites is the the Open Eye Figure Theatre which I have mentioned before.  Kevin Kling is also a favorite local storyteller.  He brings laughter and wit and local humor to the stage.  The upcoming show Chicken Ship is next weekend September 20-23 at Open Eye.
Open Eye Figure Theatre Presents
CHICKEN SHIP
September 20 – 23
Created and performed by Kevin Kling and Clare Murphy

High-flying storytellers Kevin Kling and Clare Murphy create a mythic allegory for our times, as told by farmyard animals! A chicken wakes up in 2018 to the sky falling down. As she runs along a dangerous road littered with foxes and falsehoods, she encounters fables, myths, and history that illuminate and obfuscate her path. What will become of her and the ship she sailed in on?

Kevin Kling has been a regular on the Open Eye stage for many years and for this show he's bringing back Irish storyteller Clare Murphy, first seen at Open Eye in FOUR DIRECTIONS. These talented artists captivate audiences with surprising, hilarious, and profound storytelling! Only four performances!