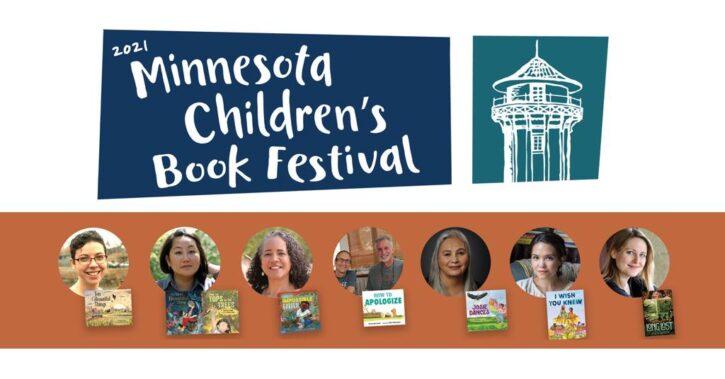 I'm so glad that my kids love to read! I was an avid reader myself all through school and beyond, and I continue to make a point to visit the library regularly with my kids so they can choose and enjoy their own books, as well.
If you have some avid readers in your family, why not check out some local book events?
The Minnesota Children's Book Festival takes place Saturday, September 18 from 12 – 5 pm. This is the 22nd annual event, taking place just outside of Red Wing. There is no admission fee and there are plenty of great activities for all ages.
The Anderson Center is proud to present the 22nd annual Minnesota Children's Book Festival, featuring presentations of new books by eight award-winning children's & young adult authors and illustrators: Kao Kalia Yang, Magdalena Mora, Molly Beth Griffin, David LaRochelle, Mike Whonoutka, Jacqueline West, Mélina Mangal and Denise Lajimodiere.

Taking place Saturday, September 18, 2021 from noon to 5 p.m. at the Anderson Center's beautiful, historic Tower View campus, the Children's Book Festival is an ideal opportunity for families to connect, learn and play.

This year's titles present various narratives around the natural world, skill-building, and diverse perspectives that help kids, as well as their adults, understand each other and the world around them. Purchasing titles online through The Anderson Center page on Bookshop supports both independent bookstores and the organization: https://bookshop.org/lists/2021-mn-childrens-book-festival.

Throughout the afternoon, each author and illustrator is presenting their work, reading from their new book, and participating in a meet & greet and book signing booth. Taking place outdoors, the event also features Henna by Kayley, stilting by Barebones, tours to the top of the Anderson Center's landmark water tower, artmaking activities, bookmaking with ArtReach, Dr. Bob's puppet theater, balloon animals by David Olson, and food by Warm Toasties Food Truck & The Granary of Stockholm. All ages are welcome!

Emphasizing the joy of learning through reading and arts activities, the Minnesota Children's Book Festival has received national acclaim for its efforts to promote literacy among young people.