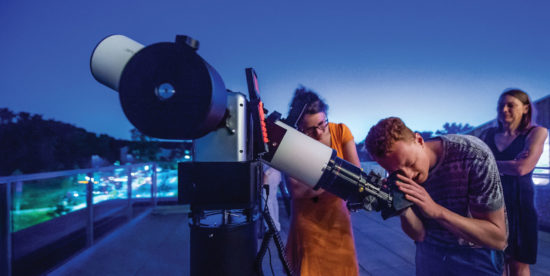 To infinity and beyond! Explore the sky with the Bell Museum at their free March Star Party taking place this Friday, March 13th from 8:30 – 10 pm. Admission is free, but a $5 donation is requested.
These telescope observing nights take place monthly during the U of M's fall and spring semesters on the Bell's rooftop observation deck. They are family-friendly but are recommended for ages 7+.
Start the night inside the Whitney and Elizabeth MacMillan Planetarium for a brief presentation of Spring Sky Tonight. After the planetarium show, the evening will continue with telescopes on our rooftop observation deck. Bell Museum staff will guide you through observations of the same celestial objects that have inspired sky-gazers throughout history!

Remember to dress for the weather! The event takes place rain or shine. In the case of extreme or poor weather, indoor activities will be planned in place of telescope observing.
They do require advance registration.