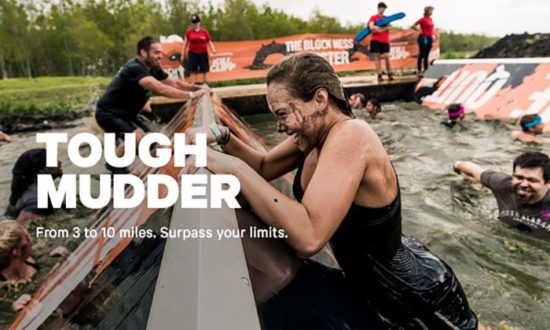 This is happening next weekend (July 13 – 14)!
Mud runs have become super popular, and this July you can join in the fun with Tough Mudder in Hugo. If you register now through Groupon, you can save up to 27% on registration! Choose from the 5K (3 miles, 13 obstacles) or Classic (8-10 miles, 25 obstacles) and save. What makes this deal extra awesome is it includes all fees.
Each participant receives:
Performance finisher T-shirt
Tough Mudder finisher headband
Action photography
Post-event beer (21+ only)
Must be 14+ to participate
After you purchase your Groupon, you'll need to register on the Tough Mudder website (instructions will be in the email). You MUST register at least 24 hours prior to the event in order to be allowed to participate.
Tough Mudder Classic
Tough Mudder Classic is our return to our badass roots to make 2019 the greatest season yet. With one 8-10 mile loop of mud-soaked mayhem loaded with 25 best-in-class obstacles, including 10 new or updated 2019 obstacles on Every. Single. Course. That's right – double-digit innovation and more obstacles than ever, for maximum limit-testing. This is your chance to get outside your comfort zone, discover what you're made of, and cross that finish line stronger than you started.

Looking for that little extra push to make it out to our event? Get ready for our Mudder Village Festival with live entertainment, authentic local eats, lawn games and all the incredible Mudder camaraderie you can handle.

Tough Mudder 5K
This is no ordinary fun run. Tough Mudder 5K is an all around life experience packed with 3 miles and 13 obstacles coming to every Tough Mudder weekend near you. Tough Mudder 5K is untimed, so there's no pressure, no judgement and no need to train. It's a like-minded community of people who've chosen to do something different with their weekend, make new friends, memories – and have the time of their lives doing it.

Welcome to a teamwork-focused, obstacle-crammed event topped off by the most epic Mudder Village Festival your Instagram feed has ever seen. Kick back with live entertainment, epic lawn games and challenges, authentic local food, free beer, and a never-ending supply of Mudder Nation camaraderie.
Get your Groupon HERE.