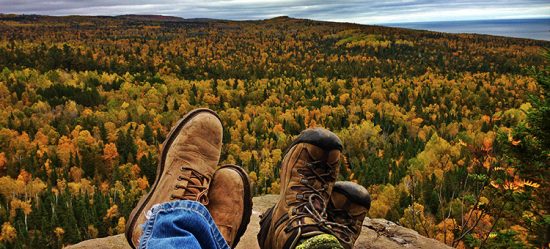 Hopefully your day today includes some time surrounded by friends or family. Or if you're like a good friend of mine, then perhaps just a day at home to relax and enjoy a good frozen pizza. However you spend the day, it's a day to be thankful.
Whatever you choose today, tomorrow will be a new day. For many there's the tradition of shopping, but for the rest of us, there's Free Admission to All Minnesota State Parks on Black Friday. A day to explore, hike and wander for free – sounds like a perfect Thrifty Minnesota Day!
Free Admission to All Minnesota State Parks on Black Friday!

The tradition continues! Admission to all 75 Minnesota state parks and recreation areas (regularly $7 for one-day vehicle permit) will be free on the day after Thanksgiving again this year.

The goal is to encourage families to extend their holiday by spending time together with a walk outdoors. Research shows that walking offers multiple benefits, from increased creativity and better brain function to more flexibility and stamina. So you won't just burn calories, you'll also improve your well-being.

While you're out there, snap a photo of your Black Friday free park adventure, and share it with us on social media using #FreeParkFriday and #OnlyinMN.

Need a suggestion for a free park adventure?

A few parks will offer special programs on Free Park Friday, and you can visit our events calendar for more information.

If the programs don't fit your schedule, you can explore on your own. There's a Minnesota state park or recreation area within about 30 miles of anyone in Minnesota. Use the ParkFinder and HikeFinder tools to help you with your trip-planning.

Important reminders

Be sure to check which parks will have special hunts taking place, so you can plan accordingly.

Many state park offices will be closed or minimally staffed over the holiday weekend, because staff will be taking time off to celebrate with their own families, but visitors can stop at the orientation stations near the park entrance for trail maps and tips on what to see and do at the park.