Minnesota is a top fishing destination, and for good reason! Our beloved state offers some of the best freshwater fishing in the country. From lakes to streams to rivers, we have abundant opportunity to catch a wide variety of fish. (My personal favorite for eating is perch, but I won't turn down a nice walleye, either.)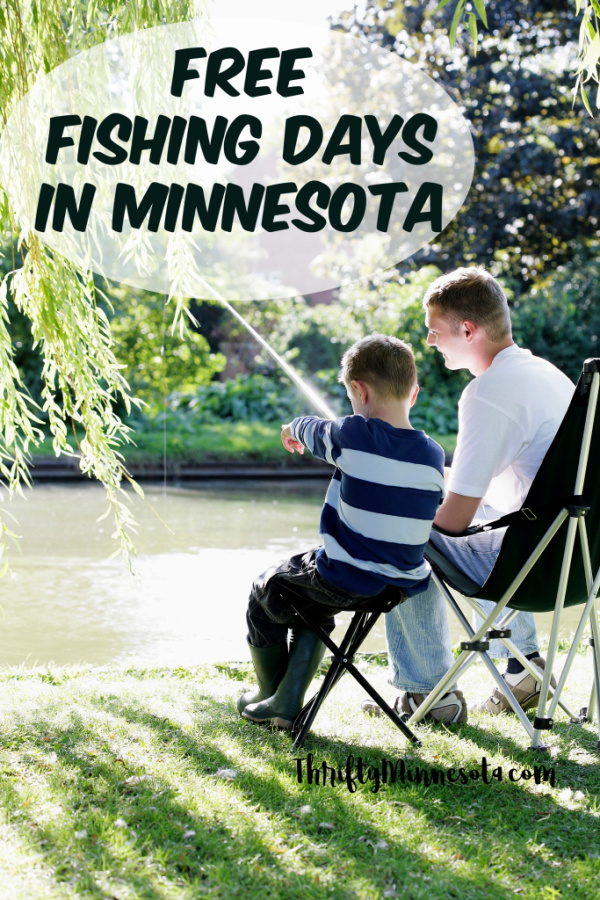 A regular angling license is relatively inexpensive (just $25/year as of 2021), but there are several opportunities to fish for free in Minnesota, as well. Here's a list of current Free Fishing Days in Minnesota:
Free Fishing Days in Minnesota
Take a Kid Ice Fishing Weekend – January 16 – 18, 2021
Minnesota residents 16 and older fish free with children younger than 16.
Take a Mom Fishing Weekend – May 15 – 16, 2021
Minnesota resident moms fish free.
Take a Kid Fishing Weekend – June 4 – 6, 2021
Minnesota residents 16 and older fish free with children younger than 16.
Fish for Free in Most MN State Parks
Minnesota residents can fish for free (a.k.a. without a fishing license) in most Minnesota state parks, including ice fishing. A Minnesota resident may fish in a state park without a fishing license when:
the body of water does not require a trout stamp
fishing from shore or wading in water within the state park
fishing through the ice, from a boat or a float on a designated lake that is completely encompassed within a Minnesota state park
All park rules must be followed as usual, along with any rules and regulations relating to the taking of game and fish. You will still need a vehicle permit to enter a Minnesota state park.
Plus, many Minnesota state parks have loaner equipment available on a first-come, first-serve basis. Fishing kits include a rod, a reel, and a stocked tackle box. Check out this map of all the state parks with free fishing opportunities, including some parks with free loaner equipment.