GLOW Holiday Festival is now at the Minnesota State Fairgrounds!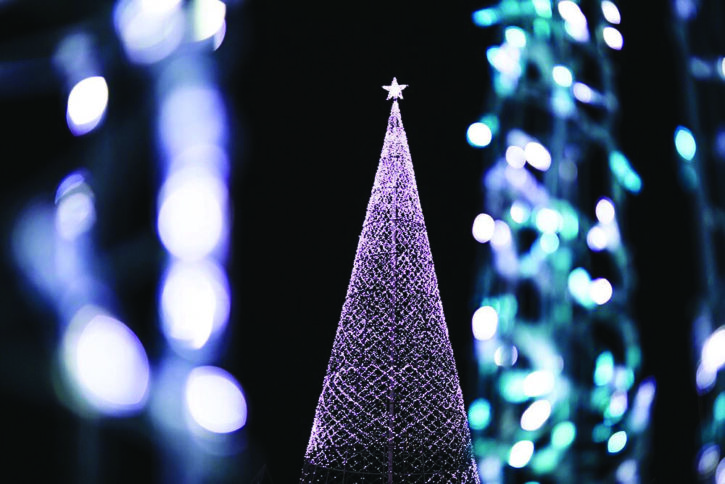 Our oh-so-lovely weather here in Minnesota typically means we spend a lot of time inside during the fall and winter. But that doesn't mean you can't enjoy some amazing experiences…just cozy up inside your vehicle and see some sights!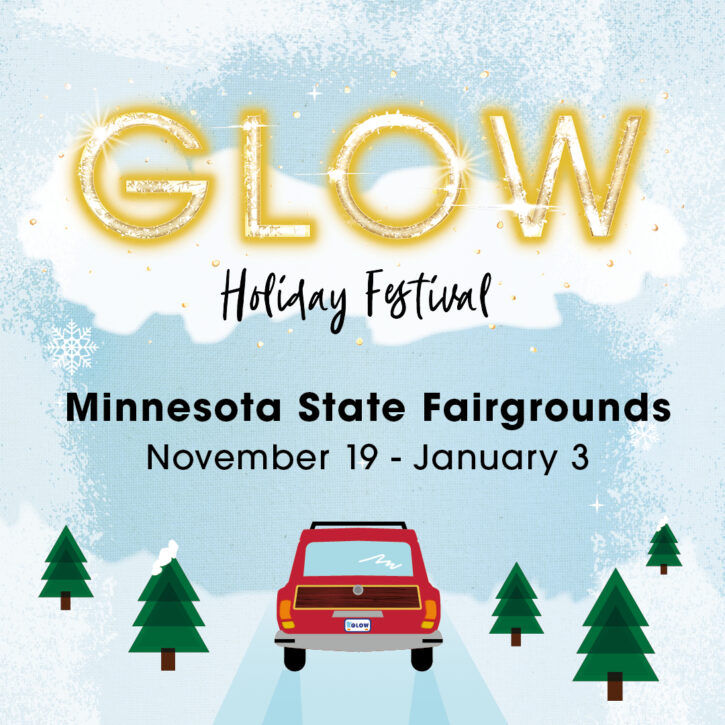 One BRAND NEW drive-thru holiday light experience is GLOW Holiday Festival at the Minnesota State Fairgrounds! We weren't able to enjoy the Minnesota State Fair this year, but maybe this "Great Minnesota Holiday Get-Together" will be of interest to you.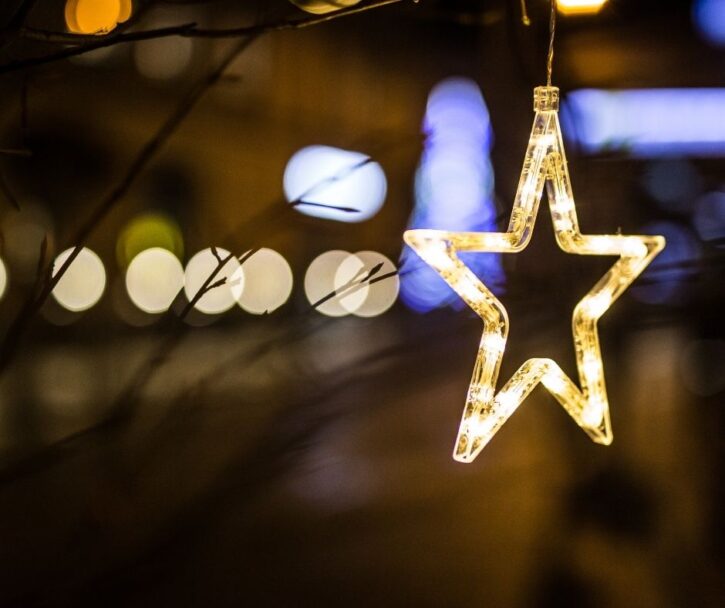 GLOW Holiday Festival will run for 46 consecutive nights from November 19, 2020 through January 3, 2021. It will be a one-mile drive-thru with a dozen seasonal scenes featuring over a million holiday lights, a 100-foot illuminated tree, icicle and art installations, a festive gingerbread house, and other attractions.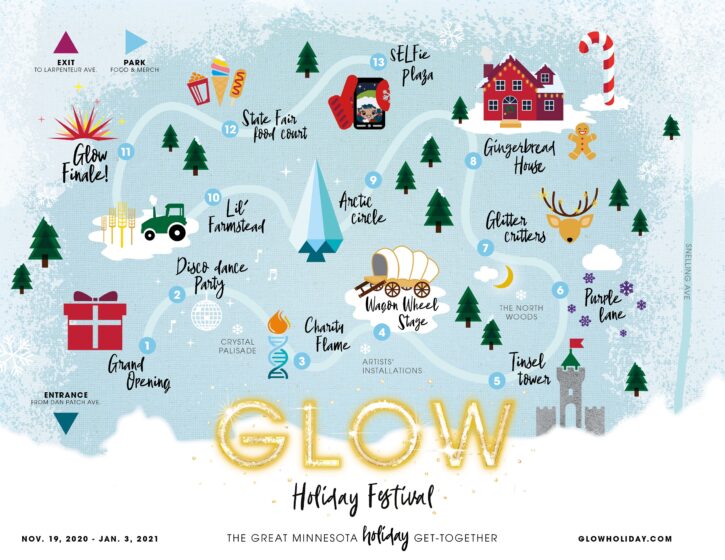 Plus, once your experience is done, you can purchase a selection of Minnesota State Fair food favorites at the State Fair Food Court!
All tickets must be purchased online in advance. Note that entry is timed for every 15 minutes, and the experience takes approximately 40 minutes from start to finish.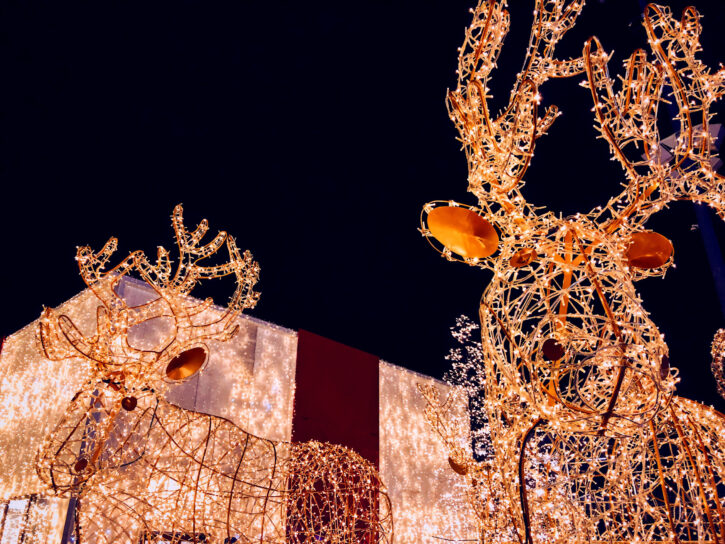 Highlights of GLOW Holiday Festival will include:
The Grand Opening – a gigantic illuminated gift box
GLOW Disco Party – a radiant disco light show
Charity Flame & Art Park – putting a spotlight on community charities and local artists
Tinsel Tower – a festive story projected onto a notable Fairgrounds building
Purple Lane – a Tribute to Prince
Glitter Critters & Lil' Farmstead – lighted woodland and farm creatures
Arctic Circle – featuring 200 icicles and a 100-foot illuminated tree
Other stops include the Wagon Wheel Stage, Gingerbread House, and Peppermint Tower
A surprise GLOW finale
sELFie Plaza – an optional photo opportunity, perfect for holiday photo posing!
State Fair Food Court – a chance to purchase some of your favorite Fair foods (optional)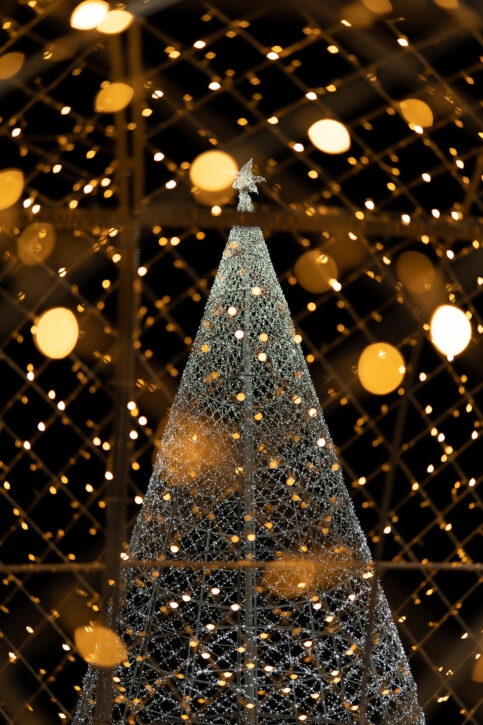 GLOW Holiday Festival will celebrate Christmas, of course, but also highlight different holidays and communities on special themed nights like Amity Night, Latinx Night, Hanukkah Night, Indigenous Peoples Night, Kwanzaa Night.
Plus, each night benefits a community charity which will receive $2 from the sale of each ticket on their specified night.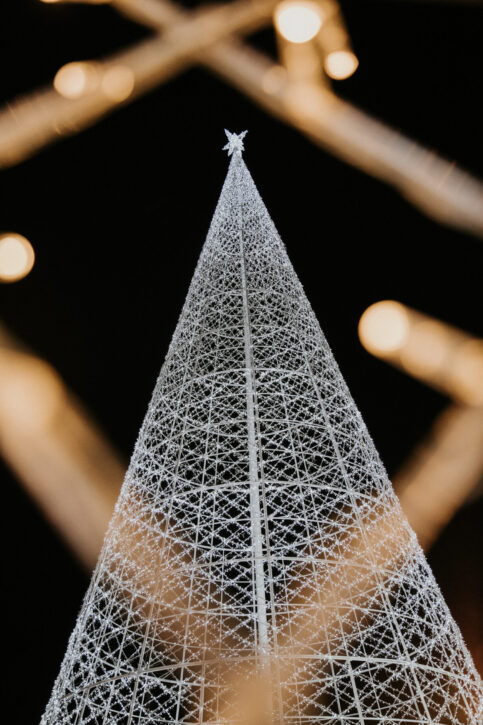 So…you're probably wondering how much this will run you, right? Tickets aren't cheap – they're $46 per vehicle, plus fees. Still, this could be a really beautiful and memorable experience for your family that would be worth the splurge.
Get your tickets HERE!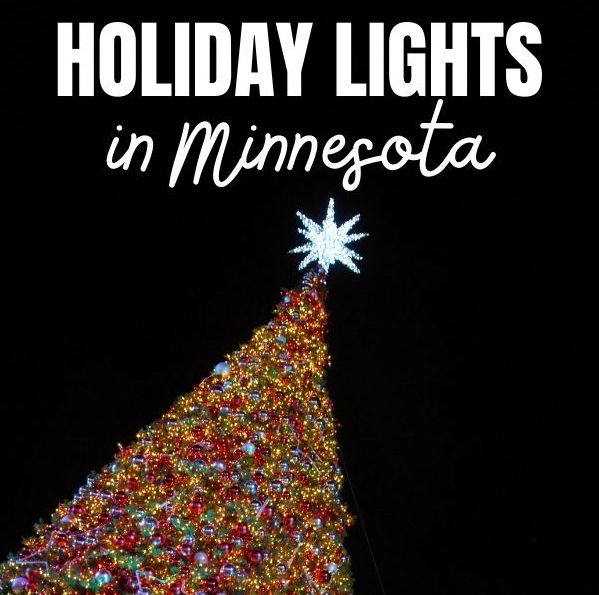 Find details on lots of other Minnesota Holiday Light shows in our BIG LIST of Holiday Lights in Minnesota!