National Donut Day is coming up this Friday, June 7th! Celebrate this sweet day by picking up some FREE donuts at select locations across Minnesota.
Salvation Army North has the full scoop over on their website, but if you live in or near (or are willing to drive to) the following cities, you can get some free goodies: Hibbing, Minneapolis, Rochester, St. Paul, Virginia, Willmar, or Woodbury. Check the website for more info.
Twin Cities Frugal Mom also has a list of National Donut Day Freebies, as does Family Fun Twin Cities.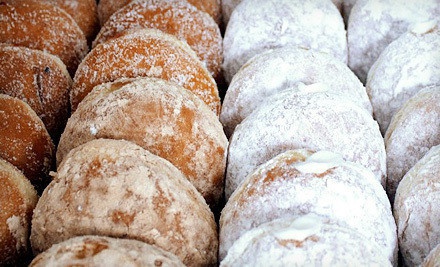 Plus, those in the Twin Cities can visit Rosedale Center from June 7th – 9th for the first-ever Donutland pop-up exhibit featuring four art installations. Snap a photo or two by the hanging donut wall or immerse yourself in the sprinkle display. Learn how The Salvation Army helped baked the love of donuts into the hearts of Americans beginning in WII thanks to their "Donut Girls." (As far as I can tell, there will not be free donuts available at Donutland.)