Duluth, Minnesota, is filled with family travel fun for everyone! Check out our list of the top 16 things to do in Duluth, MN, with kids!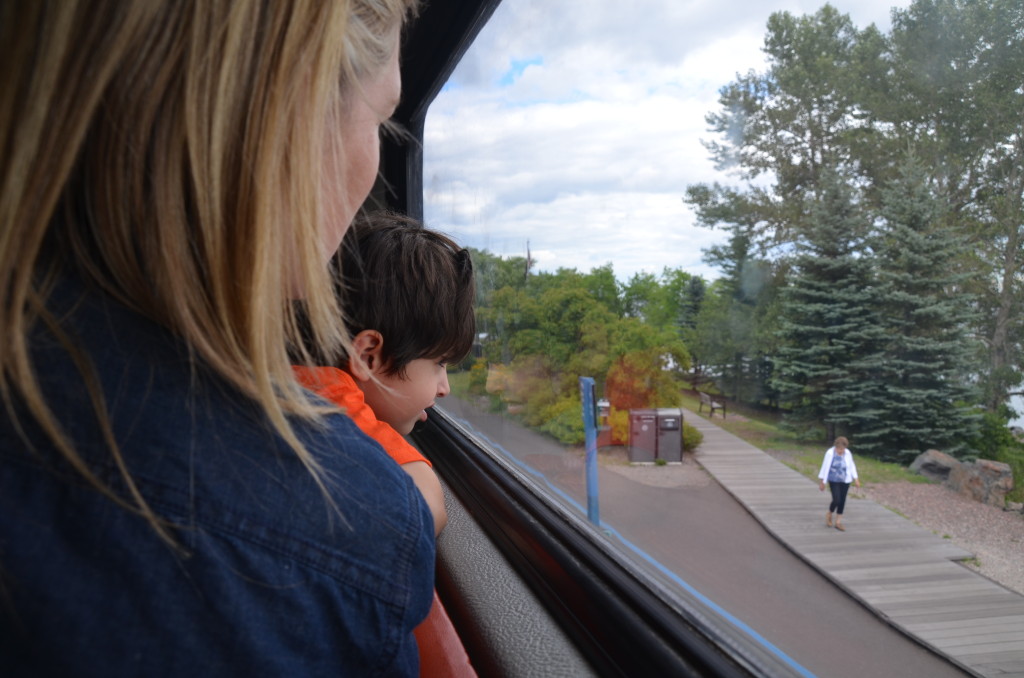 Thanks to Jen from Travel with a Plan for sharing the best things to do in Duluth, Minnesota with kids.
A rite of passage to experience in one's lifetime, Duluth, Minnesota, is an iconic port city visited by generations of families year after year.
Nestled along the North Shore of Lake Superior, this vibrant community provides loads of activities for those seeking outdoor lakeside leisure.
Along with its nautical atmosphere, Duluth has countless things for kids to do, most of which are completely free.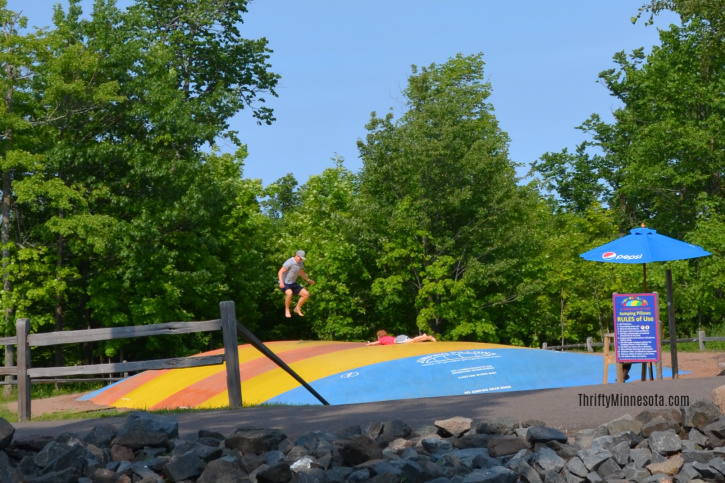 Let's take a look at the top 16 things to do in Duluth with kids and discover why Duluth is often rated one of the most family-friendly cities in the state.
Though there are several things to do with kids during its snowy winters, our Top 16 assumes that you are visiting Duluth during the spring, summer, or fall when the weather is the most pleasant.
1. Visit Canal Park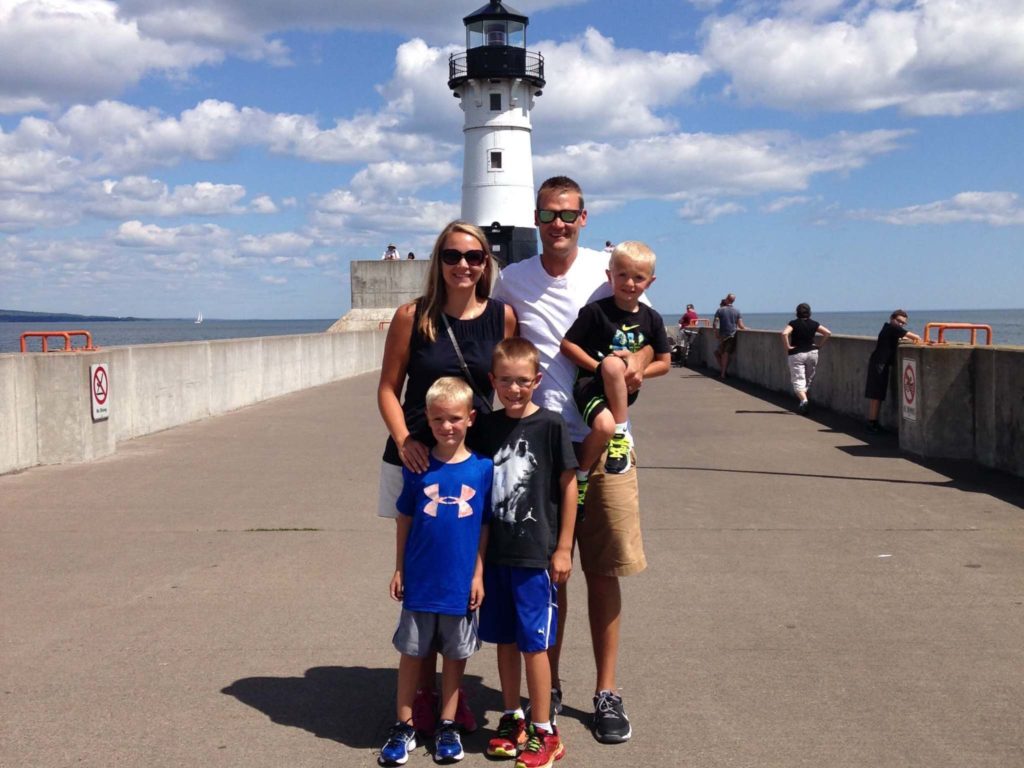 Located directly in the harbor of Lake Superior, Canal Park is the cornerstone of any family getaway to the city of Duluth.
Canal Park is the conversion of an old warehouse district into a variety of restaurants, shops, art galleries, indoor and outdoor cafes, and lakeside hotels.
Kids love browsing the souvenir shops, stomping among street corner splash pads, and watching seagulls dive for the snacks that have fallen from their fingers.
As the starting point for the 4.2 mile scenic Lakewalk, Canal Park provides access to the iconic (and still functional) Lighthouse Pier and many other family-friendly attractions.
2. Watch the Aerial Lift Bridge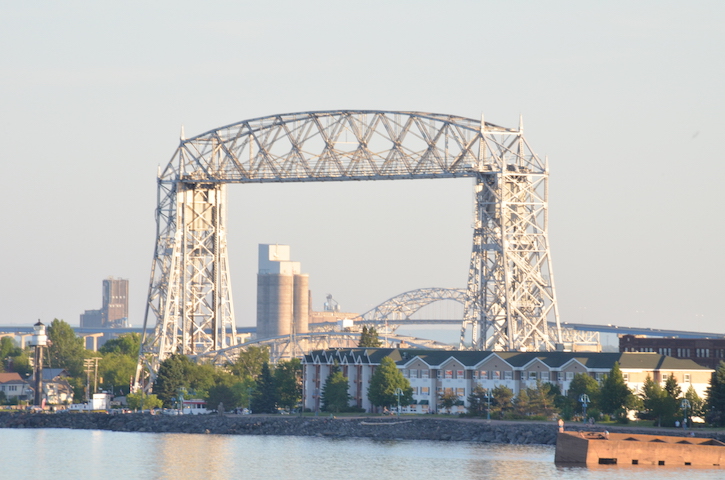 While strolling through Canal Park, a major highlight for kids is admiring the giant cargo ships from around that world that enter the harbor while transporting goods.
Yet even more spectacular is watching the port's famous Aerial Lift Bridge rise up and down to let passing ships through as its iconic whistle notifies onlookers.
Duluth's Aerial Lift Bridge rises on the hour, and half-hour all throughout the day to accommodate large resident and tourism boats to pass.
It only lifts to its maximum height for the largest vessels that come through on a predetermined schedule.
Be sure not to miss an incoming or departing ship by reviewing the daily ship schedule here!
3. Explore the Lake Superior Maritime Visitor Center
Located adjacent to the Aerial Life Bridge, the Lake Superior Maritime Visitor Center is a free indoor educational exhibit hall.
This maritime museum details the Great Lakes' history and features movies, photos, model ships, and artifacts from the history of Duluth's shipping industry.
Kids love to turn and spin the life-size wooden steering wheel as well as take a peek into the 3 crew cabins that depict what life was like while working on the historic ships.
2022 Update: The visitor center has now reopened. As of writing the hours are 10:00 am- 4:30 pm (Central time) Thursday, Friday, Saturday, Sunday & Monday, with hours expanding once we hit late spring. Check lsmma.com for current information.
4. Visit the William A. Irvin Floating Ship Museum
Yet another fun experience for kids is to actually step foot onto one of Duluth's famous ships, the William A. Irvin. A once active cargo vessel, now turned museum, the William A. Irvin is docked permanently in the Duluth harbor for visitors to tour and enjoy.
Paid tours cost $15.00 for adult admission, and children 10 and under are free per paid adult ticket.
If opting out of a tour, visitors can still enter the William A. Irvin to visit its onboard gift shop. The William A. Irvin gift shop featuring the area's largest selection of nautical items and fun collectibles.
5. Purchase a 1-Hour Rental from Wheel Fun Rentals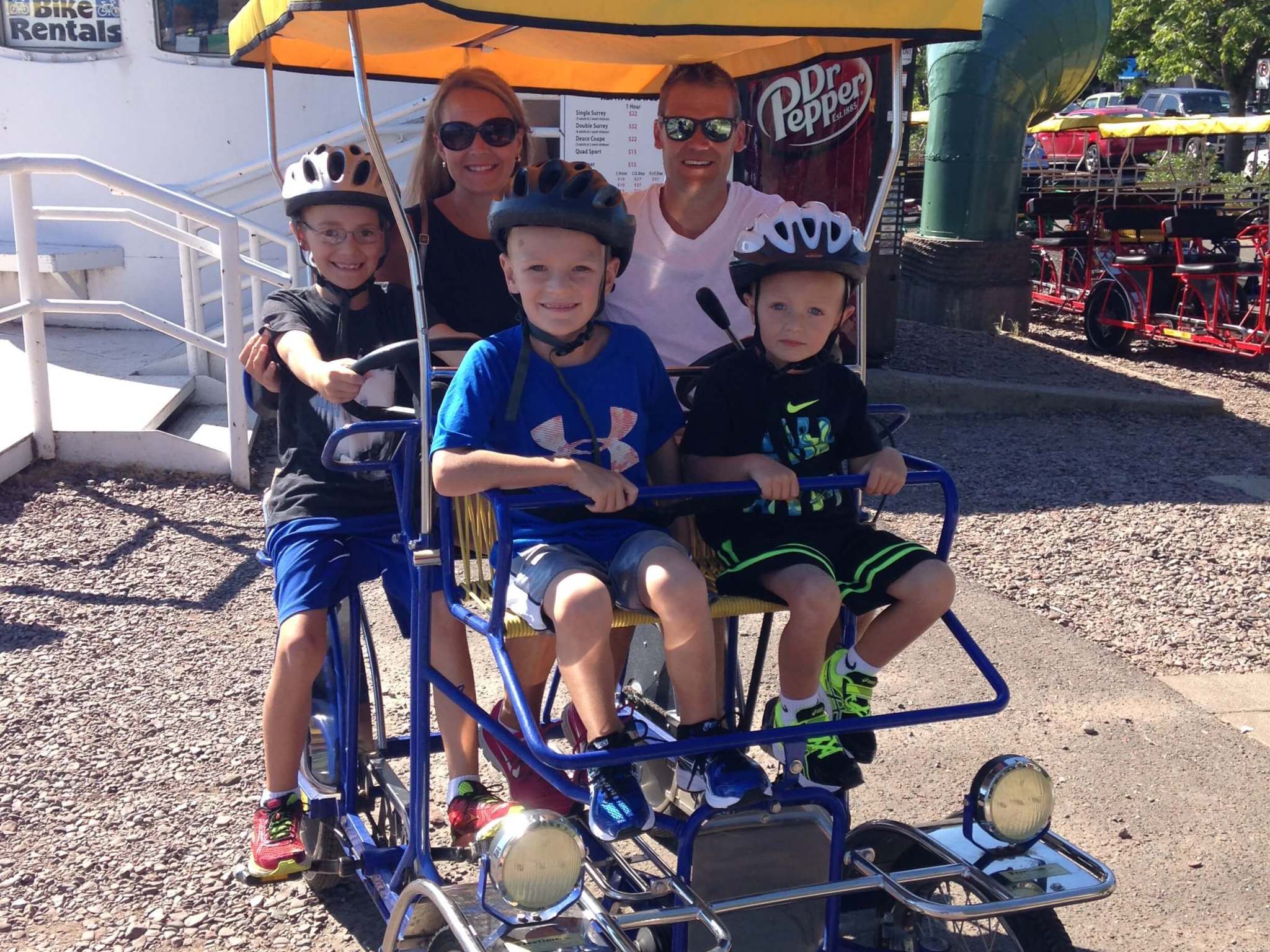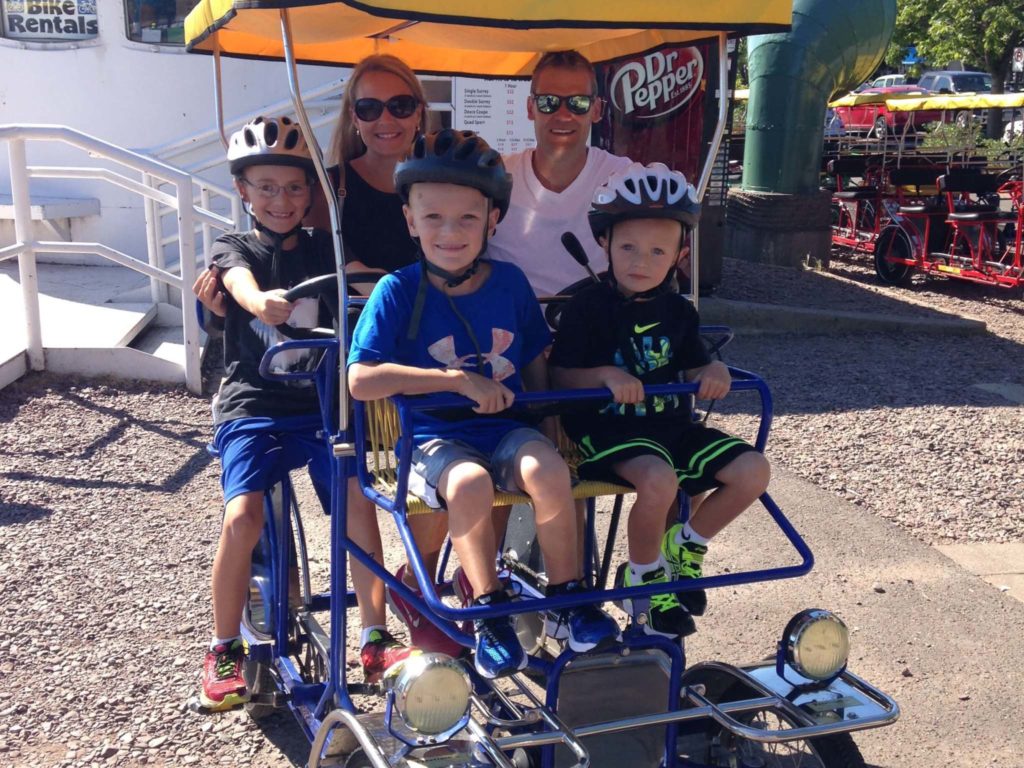 For some 'cycling' fun while touring Canal Park with kids, consider a 1 hour rental from Wheel Fun Rentals. Whether its a 3-6 person surrey, deuce coup, quad sport, kids bike, or cruiser, everyone in the family can find the right vehicle.
Cruise around and stop at your leisure while experiencing Canal Park and the harbor's pier in this fun and unique way!
Please note: Opening day is May 28, 2021 and they will open 7 days a week from 10 am – 8:30 pm through August 7, with reduced hours after that date.
6. Ride the Free Port Town Trolley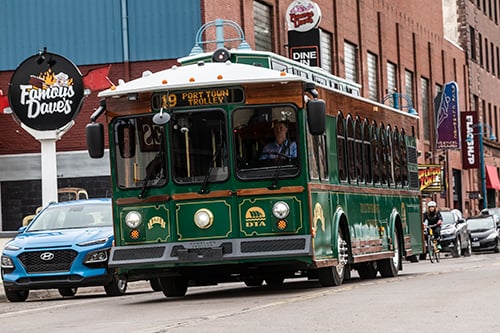 Another one of the best things to do in Duluth with kids is to take a ride on the free-to-ride Port Town Trolley.
Discovering Canal Park, Bayfront, and downtown Duluth on one of these fun and fashioned trolleys provided a much needed break from the on-foot sightseeing.
Duluth's free trolley service operates from June 2nd through Labor Day. A Port Town Trolley schedule and map can be found here.
7. Stop for a Treat at The PortLand Malt Shoppe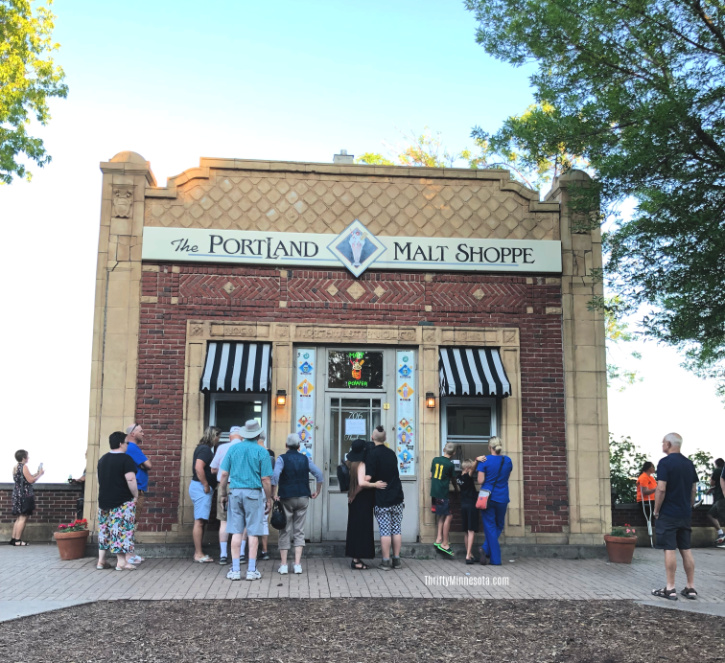 No trip to Duluth is complete without a stop at The PortLand Malt Shoppe. It's an old-fashioned ice cream shop in a beautiful building with a walk-up window only.
They offer malts (of course), shakes, cones, sundaes, and more. Once you grab your treat you can walk a few step away and enjoy it while overlooking Lake Superior.
8. Get Sporty at Adventure Zone
For a great indoor attraction that is perfect for kids, check out Canal Park's Adventure Zone. Choose single tickets or purchase a daily pass to play laser tag, mini golf, and arcade games.
Batting cages and a climbing wall are also located here. Visit the Adventure Zone website for a complete list of hours, activities, and prices.
Another active option is DEFY Duluth with 15,000 square feet of interconnected trampolines. Kids have free reign to soar and flip in the open-jump court, or they can head to the activity zones to test their airborne skills.
For more active, indoor fun, visit Planet 3 Extreme Air Park, where the kids can burn off energy with 35 trampolines, ninja warrior–style course, stunt fall, parkour inspired obstacle courses, extreme dodgeball, and more.
9. Climb Enger Tower
When visiting Duluth with kids, start your day off with a visit to Enger Tower (located within Enger Park). Enger Tower stands at an elevation of 531′ above Lake Superior, providing panoramic views of Lake Superior and Duluth's west end.
After strolling around the beautifully landscaped gardens of the park, be sure to climb the many staircases of historic Enger Tower.
Kids will stand in awe of the amazing skyline views seen from the tower windows, as well as the multiple lookout spots located throughout the park. These are moments to remember and provide for great photo ops of the magnificent Lake Superior.
10. Visit the Great Lakes Aquarium
A popular Duluth attraction for kids and adults alike is The Great Lakes Aquarium.
The Great Lakes Aquarium is unique in that it features only freshwater animals and their habitats. There are more than 200 different species of amphibians, birds, fish, mammals, and reptiles that can be discovered throughout a variety of interactive exhibits.
This 3-story colorful structure is highly visible on the waterfront and kids will enjoy spending a couple of hours here.
11. Ride the North Shore Scenic Railroad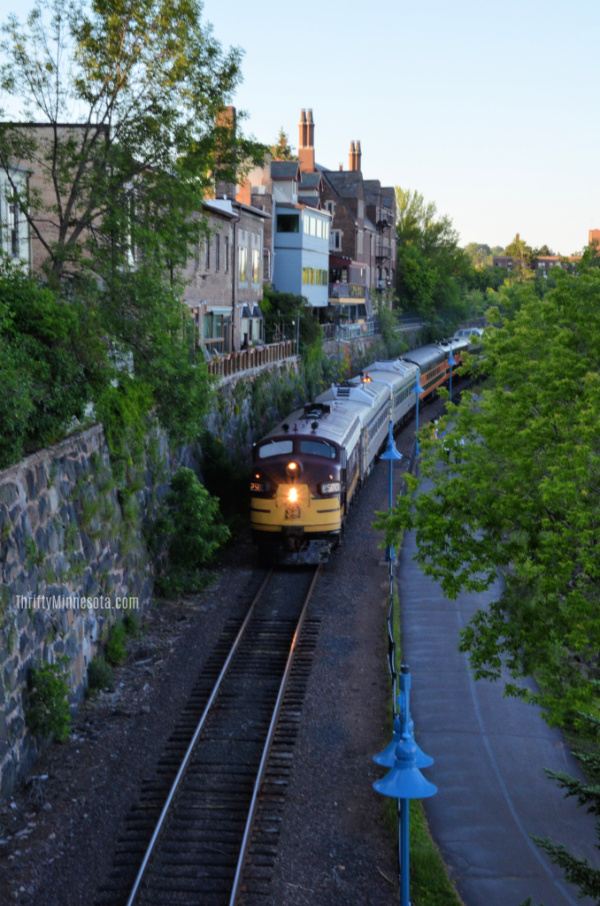 The main highlight of the Duluth Depot for kids is its access to the North Shore Scenic Railroad. Departing from the Duluth Depot, North Shore Scenic Railroad offers narrated train rides along the rugged North Shore of Lake Superior.
Be sure to check out the weekly schedule to see if your trip aligns with the ever-popular Music & Pizza Train ride or Day Out with Thomas event that are perfectly appointed for children.
12. Tour the Duluth Depot
Located in downtown Duluth, Duluth Depot is a historic train station built in 1892 that served seven different railway lines. Now on the list of U.S. National Register of Historic Places, the Depot is home to the Lake Superior Railroad Museum and Lake Shore Scenic Railroad.
With seven tracks of model trains and old time business windows to admire, kids also love the interactive scavenger hunt and getting to walk around the train cars.
13. Skip Stones at Park Point or Brighton Beach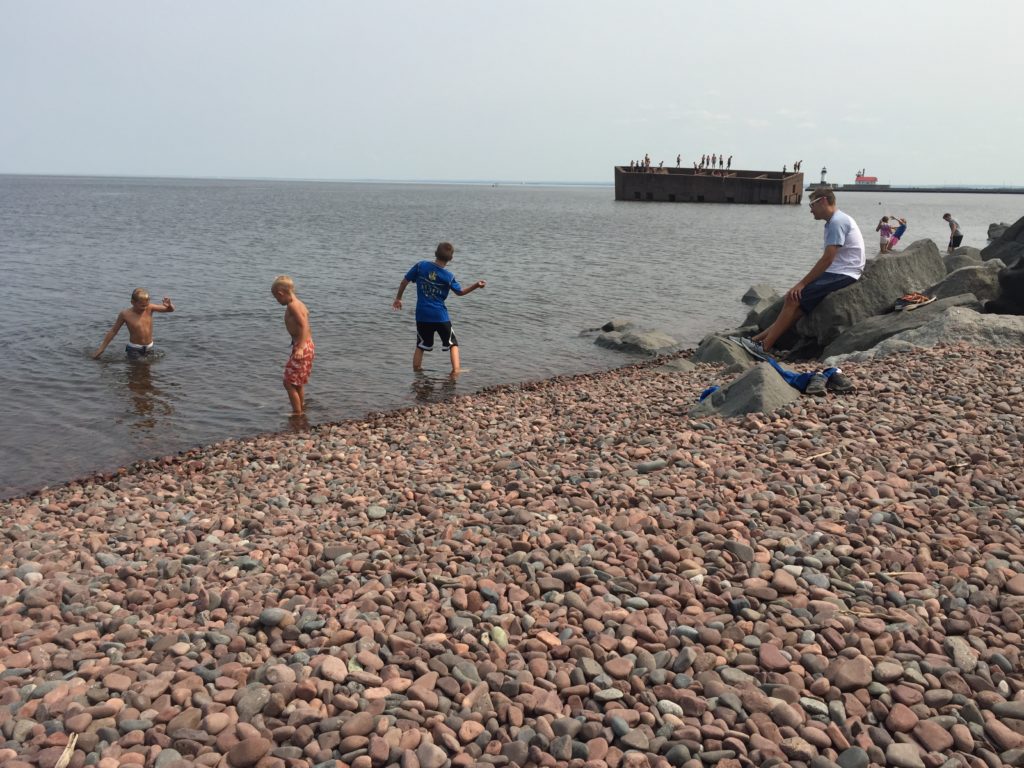 Get the experience of driving over the Aerial Life Bridge and visit Park Point and/or Brighton Beach. Make a pit stop here in order to dip your feet into the chilly Great Lake.
With an average temperature of 40° F, Lake Superior is not typically a kids' favorite swimming hole. However, both beaches are great places to skip some of the thousands of smooth rocks that adorn the shoreline.
14. Picnic in Leif Erikson Park and Rose Garden
Often overlooked by tourists, this city park is a local gem! The park has long been home to Duluth's famous Rose Garden and includes a historic amphitheater stage and portions of the boarded Lakewalk.
With plenty of greenspace and picnic tables, Leif Erikson Park is a great place for a family picnic!
15. Visit Lake Superior Zoo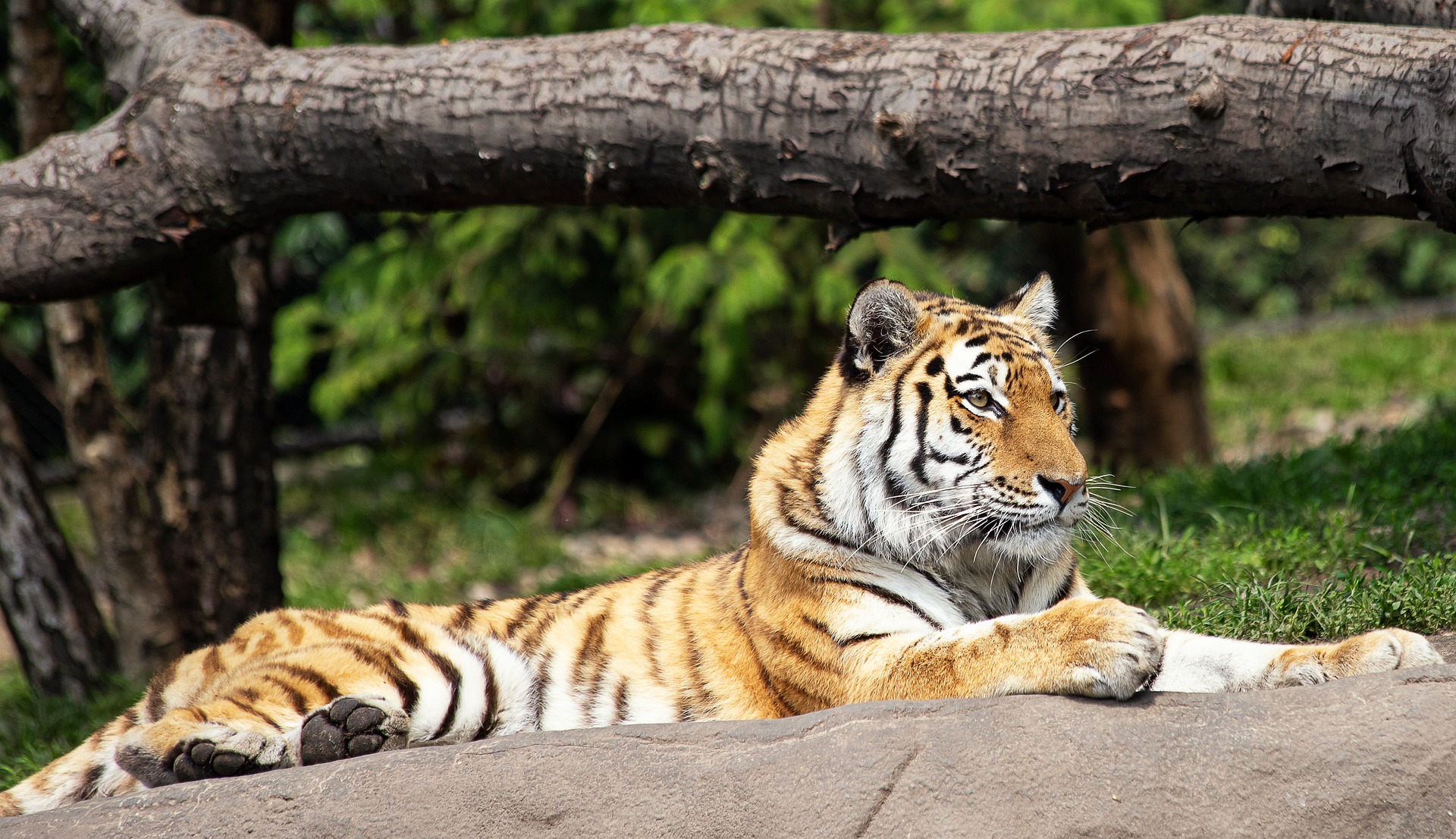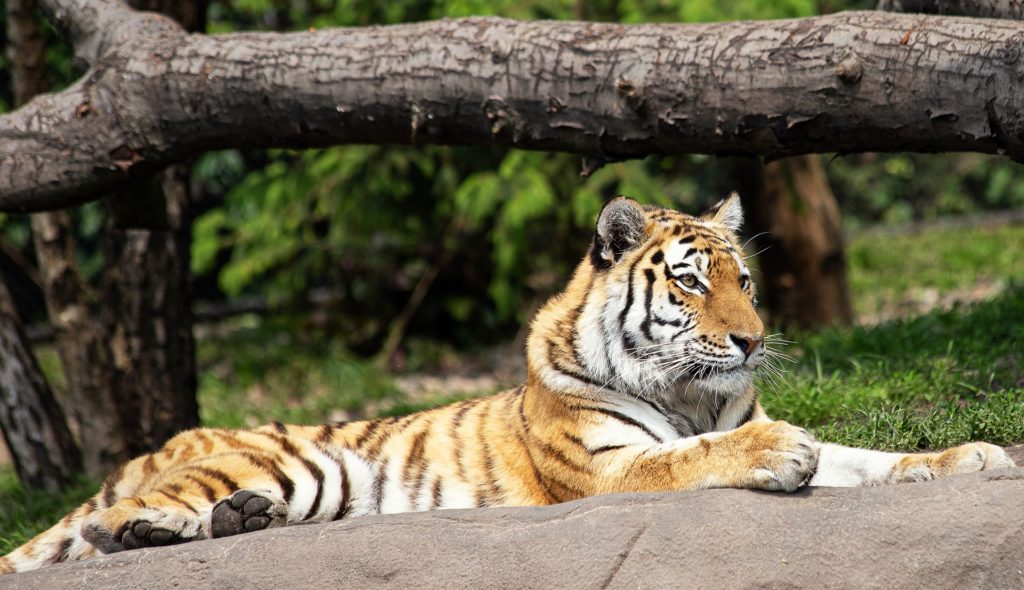 Located 7 miles from Canal Park, Lake Superior Zoo is an indoor/outdoor zoo with animal exhibits and feedings, as well as education programs.
The region's only zoo, this 16-acre attraction houses favorites like lions, tigers, kangaroos, deer, and nocturnal animals.
There is a lot of walking required at this zoo, but the picturesque setting and wide variety of animals are sure to hold the kids' attention.
16. Be Thrilled at Spirit Mountain Adventure Park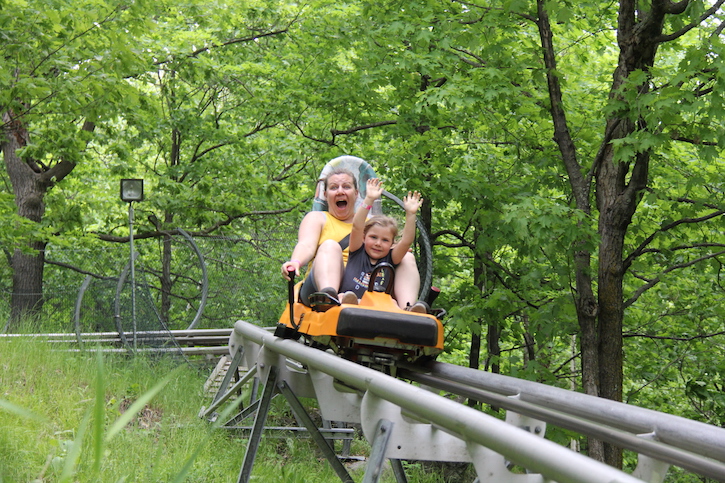 Kids will be excited to visit Spirit Mountain Adventure Park that is open seasonally during the warmer months.
With kid-friendly attractions such as an alpine coaster, zipline, mini golf, disc golf, and scenic chair-lift rides, there is enough adrenaline here for your whole family of thrill-seekers.
When it comes to winter time, visit Spirit Mountain for winter sports including skiing and snowboarding.
Spirit Mountain also offers camping, hiking, and mountain biking, so be sure to plan ahead if adding this to your list of things to do in Duluth with kids!
*Duluth, MN can easily be experienced in 2 days via this sample 2-day itinerary that will make for the perfect weekend getaway!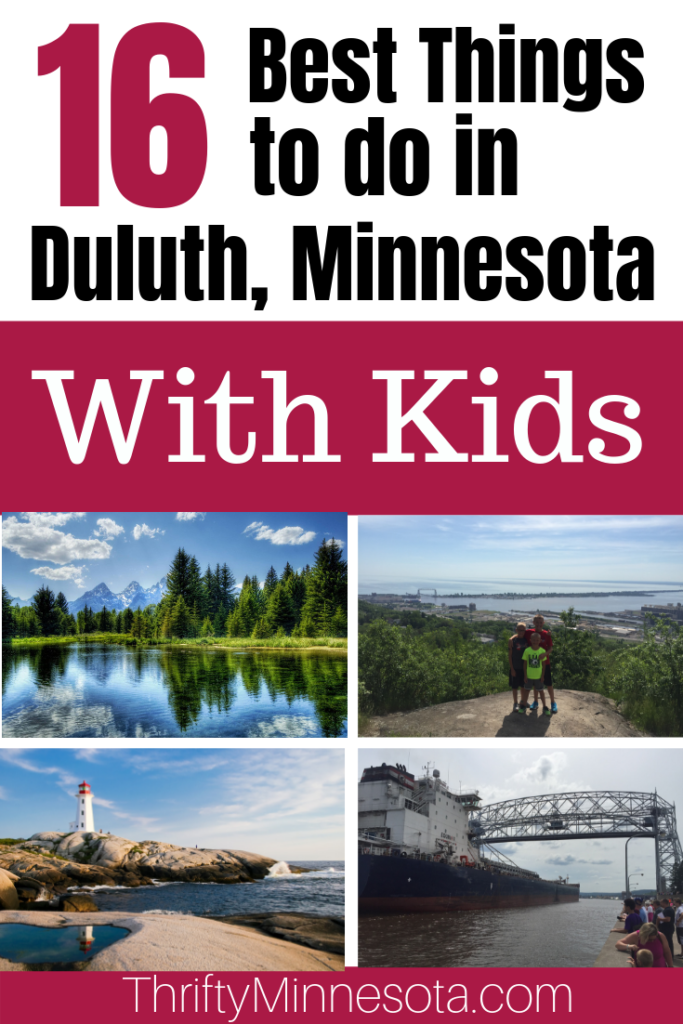 Thanks to Jen, a travel writer and freelance blogger at Travel with a Plan. Jen is a Minnesota native, and is a wife and mom to three boys. A planner by nature, Jen has spent the last 12 years planning fun and hassle-free family vacations for her family of 5. She considers travel to be an essential part of their family's health and wellbeing. Travel With A Plan is a compilation of the planning and execution that has gone into making family vacations efficient, enjoyable, and memorable. She is dedicated and passionate about sharing travel ideas, products, and experiences that are practical, and that work for families. Follow her on Facebook, Pinterest, and Twitter.
About the Author
Latest Posts