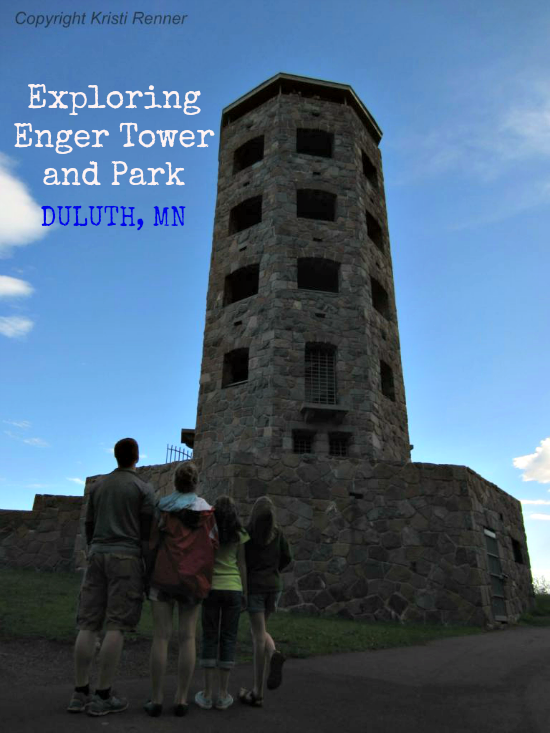 This past weekend we made the journey to the north shore area of MN.  We were there for a graduation ceremony, so we didn't have much time for exploring.  Even with little time, and dodging rain storms the whole weekend, we were still able to get a couple of short hikes in.  One of our hikes was Enger Tower and Park.  It might not be as well known as the lift bridge, or some of the state parks, but it's a great place to add to your list of "must see".   Located up on the hill, above Duluth on Skyline Drive.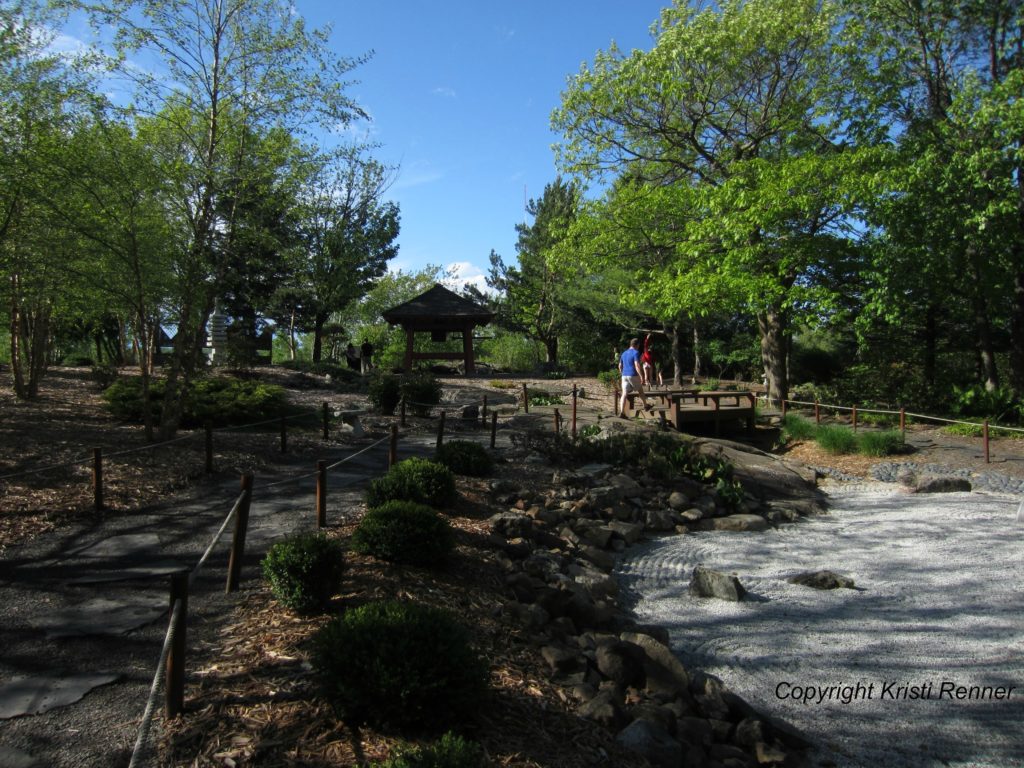 The Enger Park and Tower is one park, although the scenery is quite varied.  The Japanese Garden area, is what you see first as you walk in from the parking lot.  You might "hear" the garden first.  It's a subtle sound, the sound of the Japanese Peace Bell.  We each took a turn making the bell share it's beautiful sound.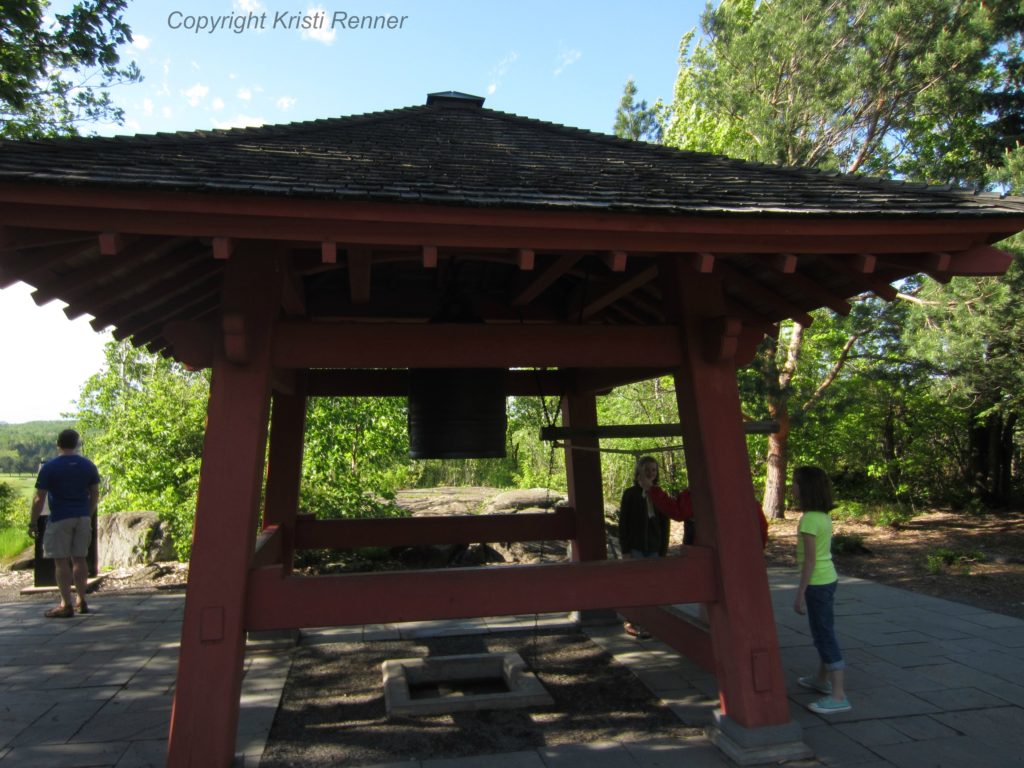 Park Description: Located on Skyline Parkway, Enger Park is known for Enter Tower, which provides a panoramic view of Duluth. The 130-acre park also features beautiful gardens and many trails that lead to Enger Park Golf Course and Twin Ponds. The park also features a Japanese Peace Bell from Duluth's Sister City Isumi-Ohara, Japan and a Japanese garden.
On one side of the park is a quiet area, a spot to just sit and take in the view of the city.  There's a bench,  or you can sit on the giant rock ledge and see the city of Duluth below.
When we arrived to the park, we had beautiful weather. Then, just as we climbed up the steps to the top of the tower, we witnessed a storm come in.  It got windy, but I managed to snap some interesting photos.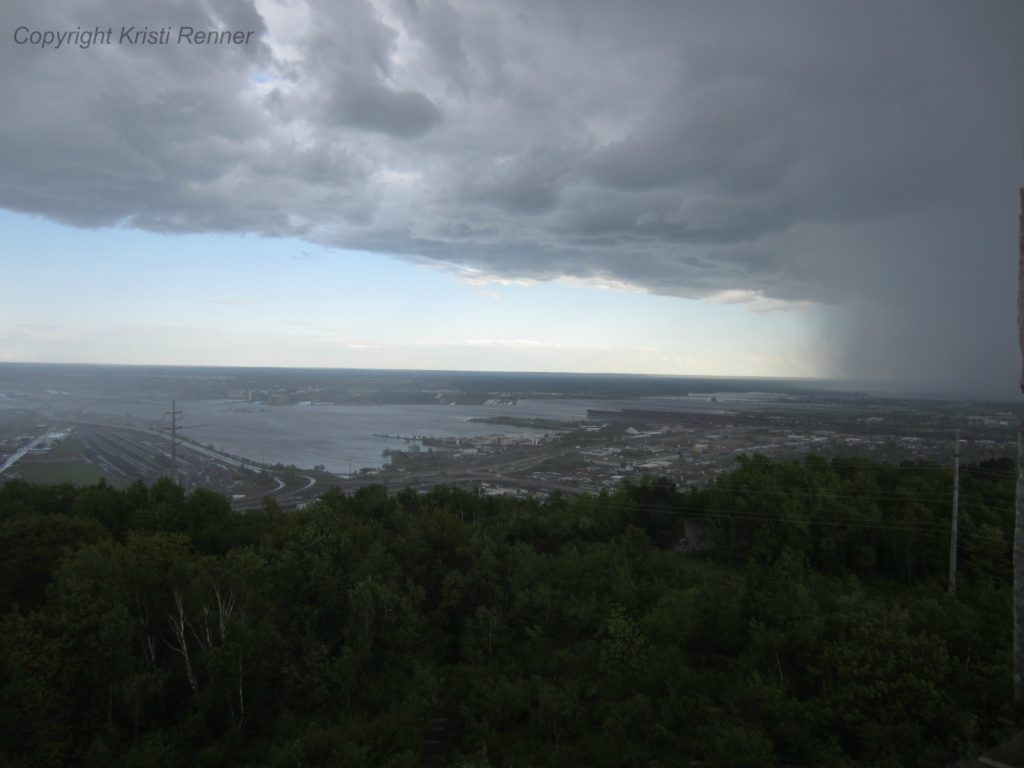 The History of Enger Tower

Built in 1939, Enger Tower, a 5 story structure constructed of national Blue Stone taken from this region, stands guard from the top of the Duluth skyline.  Looking out over the Duluth Harbor and the St. Louis Bay, the green beacon mounted at the very top of the western Duluth hillside brings it to 531′ above the level of Lake Superior.

The tower was dedicated by Crown Prince Olav and Crown Princess Martha of Norway on June 15, 1939.  The dedication was in honor of Bert Enger, a native of Norway who came to this country and became a successful furniture dealer.  At the time of his death Mr. Enger donated two thirds of his estate to the city of Duluth.  This included the land known as Enger Hill which includes Enger Tower, the park and Enger Golf Course.

There are numerous lookouts at each level of the octagonal tower, with a stair case taking you all the way to the top.  Each level offers fantastic photographic opportunities from every vantage point.