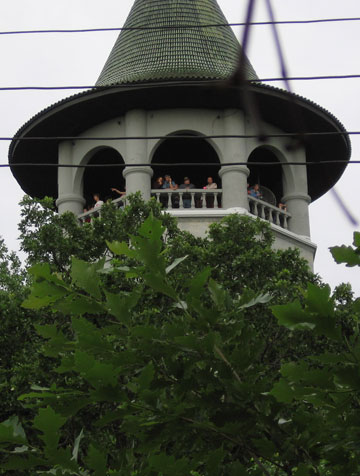 Typically you'll find an iconic Minneapolis landmark Witch's Hat Water Tower open to visitors just once a year.  Built in 1913, it's one of only a few water towers of its kind left in the area.  The tower opens to visitors just once a year, the Friday evening after Memorial day.  This year that falls on May 31st.  The tower will be open from 5:30-8:30, coinciding with the Pratt Ice Cream Social.
The Witch's Hat Water TOWER
The "Witch's Hat" water tower is in Prospect Park, (known as Tower Hill park), the highest natural land area in the city of Minneapolis. Along with the Kenwood and Washburn water towers in Minneapolis, the Prospect Park water tower is one of the few original water towers standing today in the Twin Cities area.
The 110-foot Prospect Park Water Tower was built in 1913 with a holding capacity of 150,000 gallons. It was also built to be a bandstand; however, there was only one concert in the band shell because the musicians experienced difficulty in carrying their instruments up the inside spiral staircase. Today it houses city first-responder telecommunications equipment in the roof.