We go to the MN State Fair every year.  Our girls are 15 and have been there at least once each year of their life, even at 4 months old we spent the whole day there.  Each year we do some of the same things, along with some new things along the way.  We try new food and we also eat our favorites.
You can find my post from last year here.  I wrote about a few of our favorite things.  This is a similar post, with more favorites, even some freebies and quiet spots.
This year because of my work schedule we went on the first Saturday.  Normally we do our best to go on a weekday, and I admit I was worried about the crowd.  We lucked out and it was not a record breaking day, unlike the two previous days.  So my advice,  just pick a day, you'll never what the weather will be for sure and the crowd is anyone's best guess.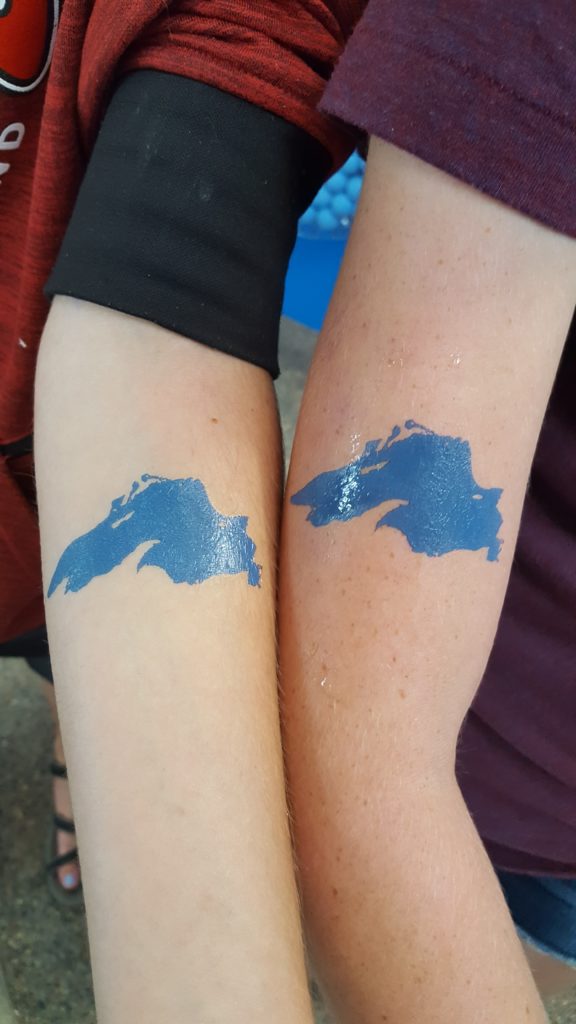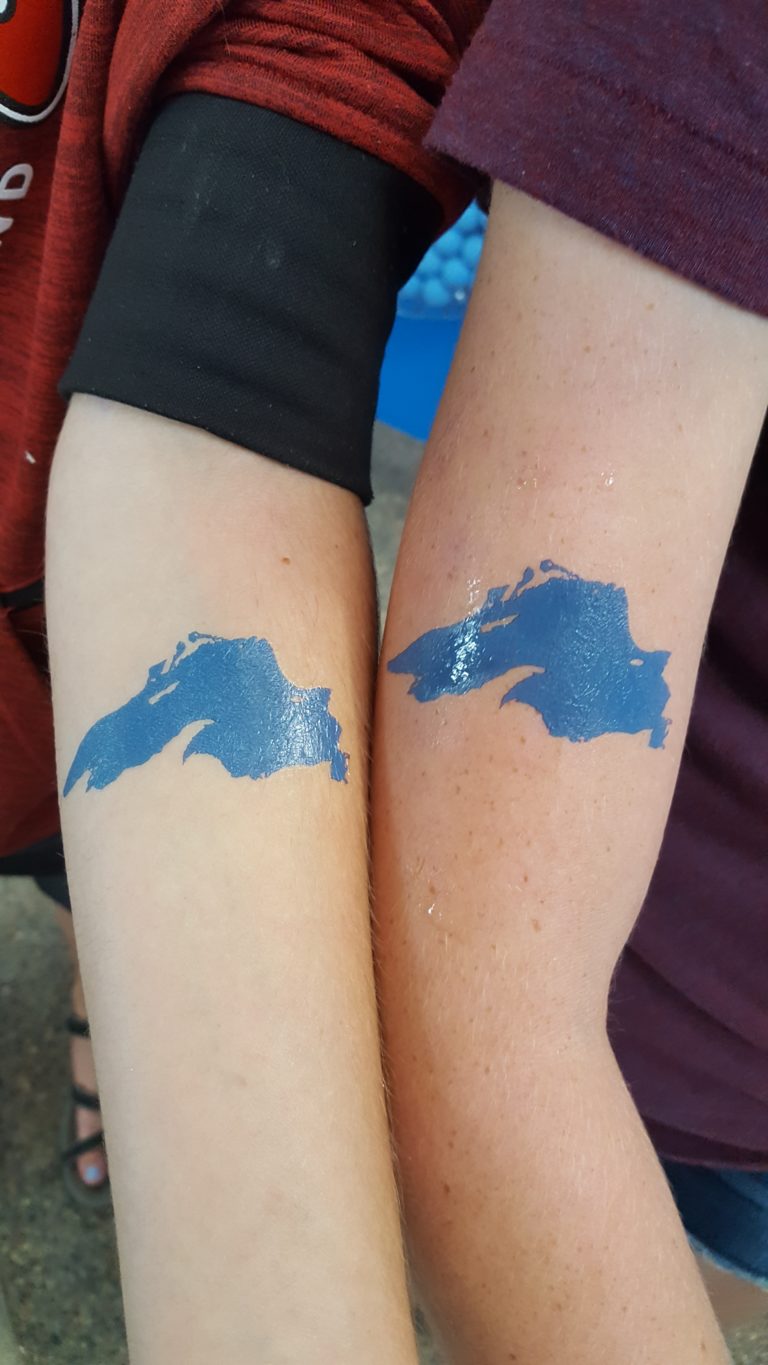 We all know that you have to pay to get into the fair, unless you happen to be lucky enough and were gifted tickets or receive them in a contest of some sort.  Our girls volunteer at the zoo as zooteens so they received two tickets for appreciation.
Once you get inside the fair gates, there's  a wealth of experiences, fun and yes even some freebies.   The photo above was taken after our girls received two free tattoos.  Lake Superior of course, Minnesota's largest lake.  You can find these tattoos in the Eco Experience building.  While we were there we also had free samples of coffee and waffles.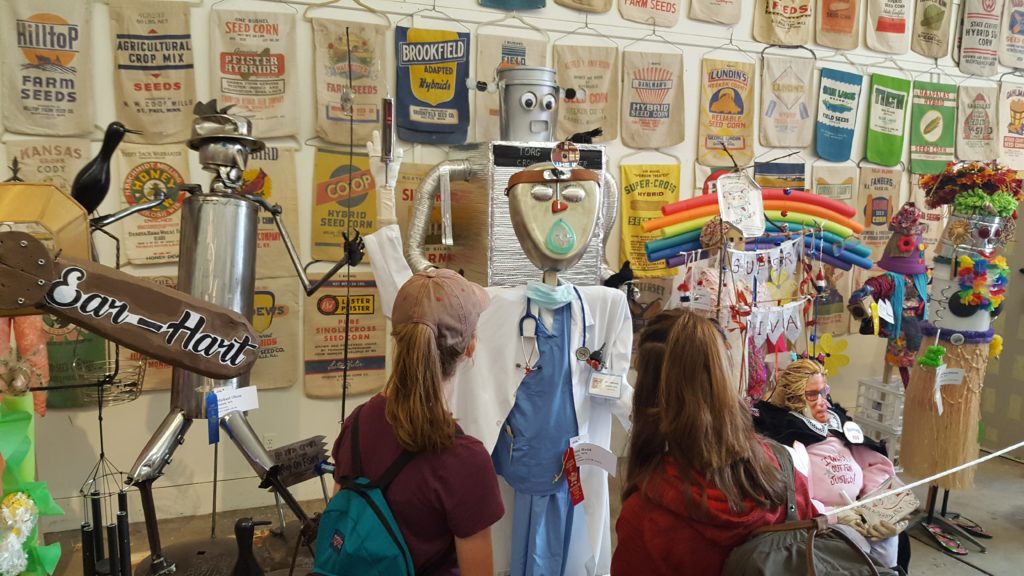 Another place we don't miss, the scarecrows and crop art in the Horticulture building.  We love to look at both of these areas.  Put this on your list as a don't miss.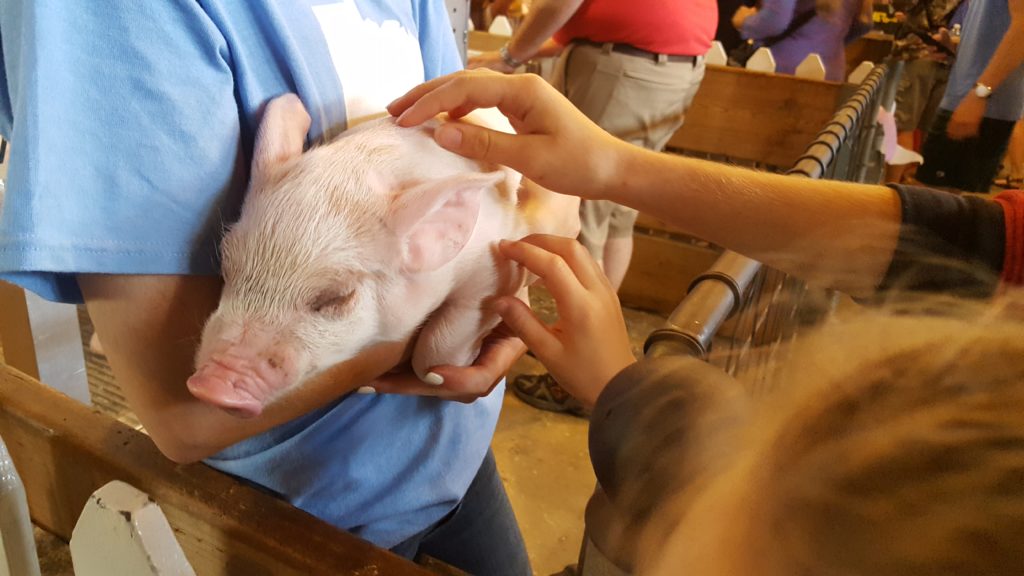 The animals are of course our first or second stop.  We never miss those and have to carefully walk through each of the animal buildings.  This year we noticed that there were fewer animals we were allowed to touch, so make sure to read signs and if possible ask if you can pet the animals.  The sheep especially, more signs and owners asking our girls to not touch them.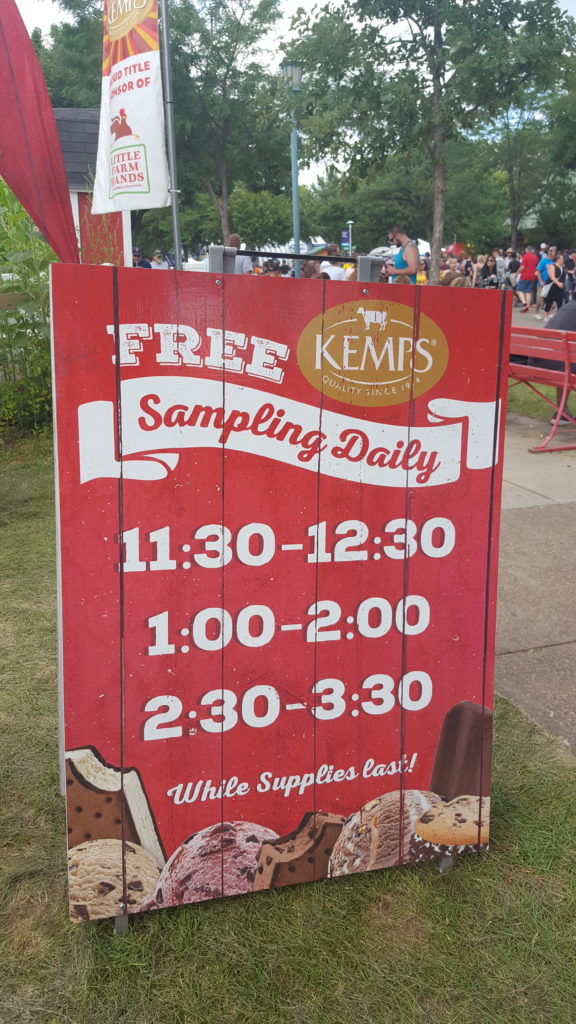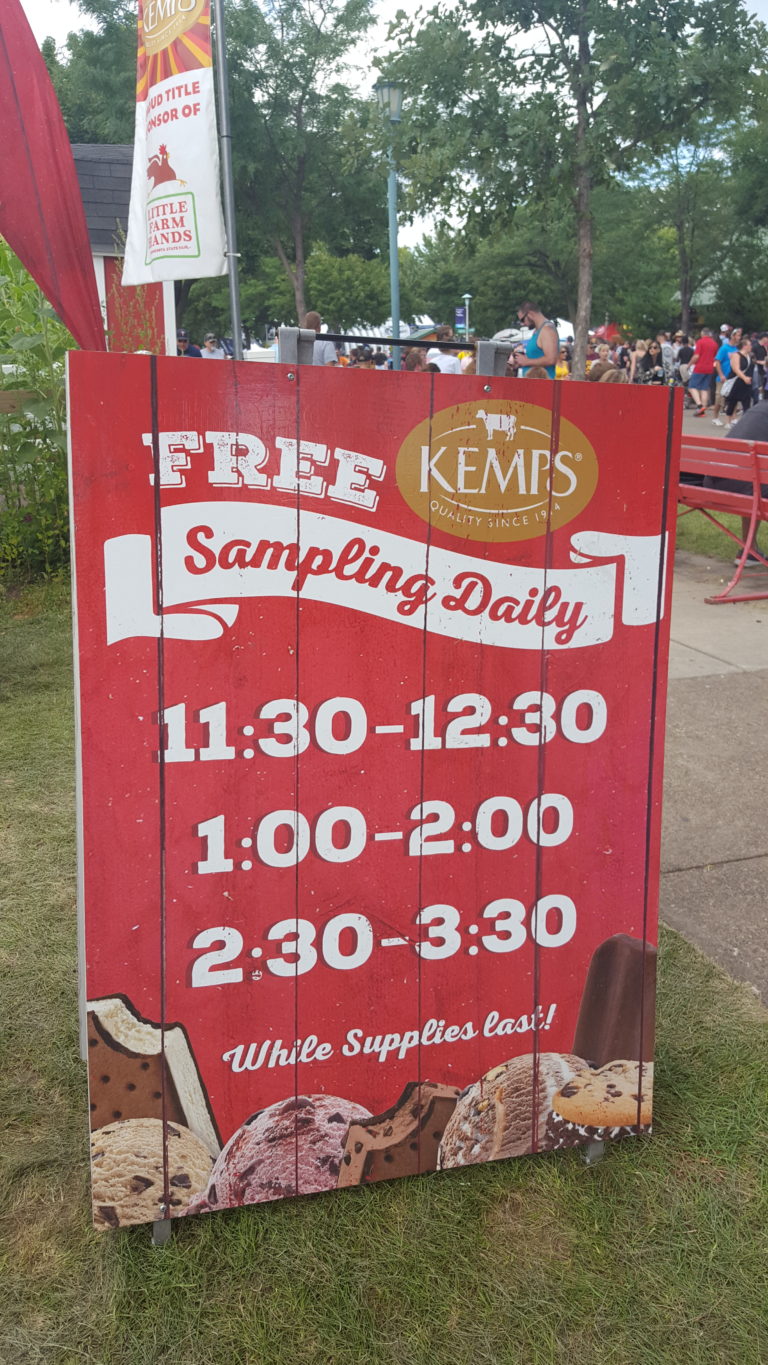 One of our favorite freebies is located near the Little Farm Hands area, at Kemps.  This year they handed out ice cream sandwiches, although when I asked they did say that they'll be rotating between three things so I can't promise what they will be handing out.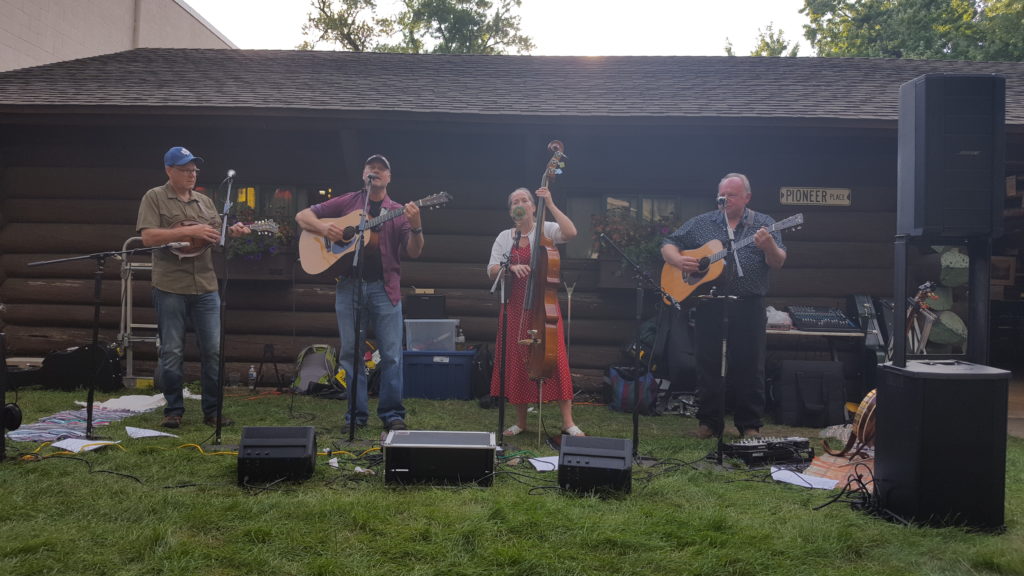 Another favorite stop is a bit hidden.  Two buildings close together, one is the senior center now called the Ramberg Center and then right next to it, this log cabin in the photo.  Both are usually quieter and not super busy.  You'll find history as well as some great music.  We stopped here to listen and rest our feet a bit after a long day of walking.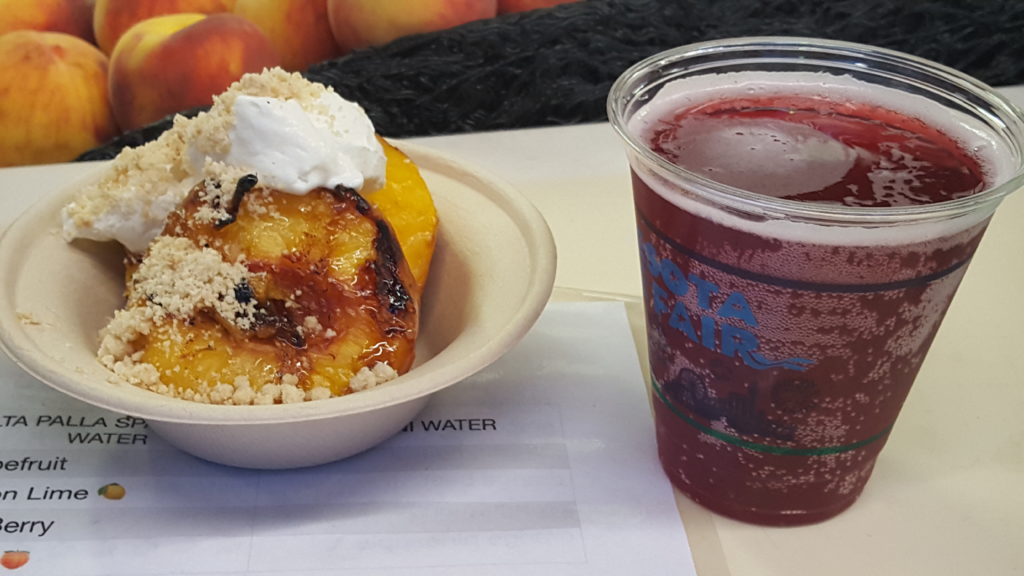 Last year a new food that I stumbled on by accident, amazing grilled peaches with a yogurt topping.  I admit, I've craved them several times since!  On our way out of the fair after a long day, I stopped and had them again this year.  Still delicious and yummy.  Our daughter decided to try the blueberry mint kombucha.  Both can be found at The Produce Exchange.  ** Note,  they were going to have grilled kiwi this year but after trying it for a day or so they decided it wasn't good fit and not something they felt proud enough to continue serving.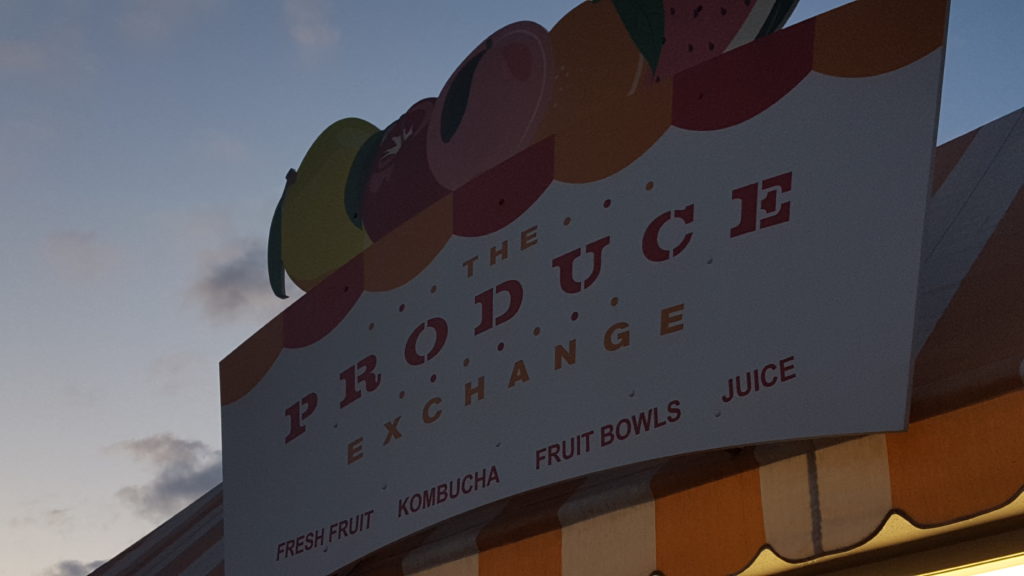 Everyone has their favorite things to do and see at the fair.  It's not a competition or a race.  It's a fun place where you can have your own experience.  You can sit and listen to music for hours on end or perhaps eat everything on the new foods list.  Maybe just walking around and people watching is your thing.  However you spend your time at the fair, enjoy it how YOU want to.
For more, check out 25 Ways to Save at the Minnesota State Fair!