Fall is approaching and that means some fabulous festivals and events are ramping up a bit. Some of them require a bit of planning for lodging or scheduling so we will post in advance.  The Taste of the Trail in Southern Minnesota, takes places on three different Saturdays.  September 12th, 19th, and the 26th.  Several small quaint towns are taking part in this great event: Lanesboro, Perterson, Whalan, Fountain, Harmony, Preston, Rushford, Rushford Village, and Houston.  In each of these towns you can savor the "Taste of the Trail" on the Root River Trail System.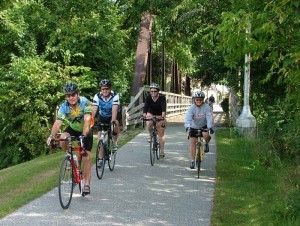 Taste of the Trail is similar to many "Taste of …"events in many towns all over the Midwest. In this case, the towns along the trail system are focusing attention on food together over the three Saturdays in September.

Taste of the Trail is designed to show off the abundance of food and activities in Southeastern Minnesota. Each town along the trail will include its own growers, producers, restaurateurs and artisans, offering samples of their products and goods. The towns will participate according to this schedule:

September 12, 2015: Lanesboro, Perterson, Whalan
September 19, 2015: Fountain, Harmony, Preston
September 26, 2015: Rushford, Rushford Village, Houston

The hours on each Saturday are 10 am – 3 pm. Sampling will take place at participating businesses and/or at a central location in each town.

From lefse in Rushford, to homemade pie in Whalan, trail enthusiasts will find a diverse variety of delightful, palate-pleasing tastes. Local talent and entertainers will showcase how to have a good time in the Trail Towns.