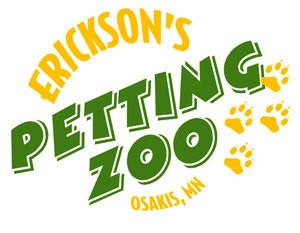 Coming up on Saturday April 4th, will be the annual Easter Egg Hunt at Erickson's Petting Zoo. Erickson's is located just outside of Osakis, in central MN.  The admission into the Easter Egg Hunt includes the petting zoo and playground as well.  Admission is $6.50 per person and age 1 and under are free.  The time along with other information can be found on their website.
Our annual Easter Egg Hunt will be Saturday, April 4th from 10-2. We put out plastic eggs through the day so you can come when ever you would like. Egg baskets are furnished, search around the yard or our hay shed. Then take the basket to the party shed and open the eggs to see what you have won. Besides the egg hunt, many animals waiting to be fed and petted. Remember to use the hand sanitizer that is available for your use.

This is a USDA licensed, inspected and insured farm. Many families, daycare centers, school groups and youth organizations come here every year.  Make plans now to visit Erickson's Petting Zoo.  The rates are reasonable, so you can come back often.