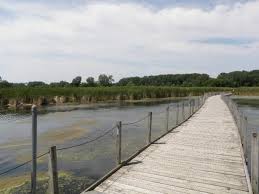 Located in Richfield you will find a hidden oasis… the Wood Lake Nature Center. Wood Lake Nature Center is a 150-acre natural area dedicated to environmental education, wildlife observation, and outdoor recreation.  A great place to take a walk, and enjoy nature. To see what is coming up for special events at the Wood Lake Nature Center go her
About Wood Lake Nature Center

The park features several wildlife viewing areas, a 100-seat amphitheater, a picnic ground, and three miles of trails and boardwalks. The trails are either blacktop or crushed limestone and most are wheelchair accessible during summer months. To preserve the natural habitat, no pets, bikes or rollerblades are allowed.
Walking/Ski Trails

Wood Lake has over two miles of crushed limestone walking trails, floating boardwalk, and groomed cross-country ski trails (weather-permitting).  See Wood Lake's trail map for distances and more information.  The trails wind through three different habitats: cattail marsh, mixed lowland forest, and restored prairie.  For a list of birds you may see at Wood Lake, refer to our birding brochure.